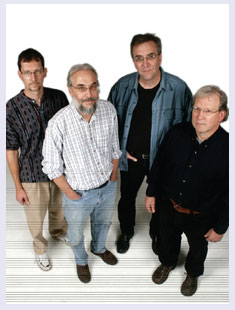 9/13/07: Some professors lead a double life. By day, they are lecturing to hundreds of students. By night, they are rocking out like the Rolling Stones. But trying to juggle a career and a love for music can be difficult.
The students standing outside Bob Stewart's office in Scripps Hall aren't waiting for concert tickets. Most do not even know he has a band.
Recently appointed associate director of the E.W. Scripps School of Journalism, Stewart has been juggling his new responsibilities while still trying to focus on his band.
"It is a tough balancing act," Stewart said.
Stewart began performing his original material at open mic nights in Athens. What started as a one-man band grew when he added guitarist Elliot Abrams, an Ohio University anthropology professor.
"After about two hours of talking, we realized we both love music ... [Abrams] brought his guitar over to my house later that evening," Stewart said.
The band would later add bassist Greg Bikowski and harmonica player John Ortman.
Outside the classroom, Stewart and Abrams put aside their busy work week and focus on their passion for creating music.
"A lot of professors have hobbies. Ours just happens to be music," Abrams said.
Similarly, Stewart's music makes him "more than a man behind a desk."
Stewart has released two solo CDs, A Million Miles Away From Home and Don't Think You Know. The subdued folk music ranges from romantic ballads to anti-war tributes.
For Stewart, his songs are musical photographs, documenting his life. As Stewart talks about performing his song, "All Over Again," he lights up. He wrote the romantic ballad for his second wife, Penny Shelton, recalling how in love he was when they met.
"When I sing that song, I am taken back to that moment when I felt all those feelings. I still get a little emotional when I perform it," he said.
Stewart admits the support from his wife and children is what keeps him performing despite his hectic schedule.
"They realize that performing is a very healthy thing for me, and that I get a lot of enjoyment from it," Stewart said.
The Bob Stewart Band is a "very serious hobby and will be around for a while," Stewart said. The band is working on new material and actively performing in Athens.
The band hopes to release its first live CD this quarter.
While being a professor sometimes makes it difficult for the band to get together, Stewart admits that the music never leaves him.
"I have a song in my head right this minute, and I can't make that go away," Stewart said. "I don't need an iPod because I always have a tune in my head of some song I'm working on."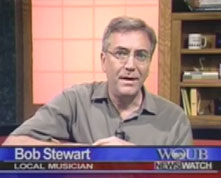 A Million Miles Away from Home

Bob Stewart talks about "A Million Miles Away from Home" on WOUB's Newswatch television program. (Aug. 15, 2006) [watch video]. In this interview segment on the 6:30pm newscast, Bob was asked to play a couple verses of "A Million Miles Away from Home." Producers used video from and A&E documentary on Lima Company "behind" the song.



Album provides comfort
Collin Minnis, The Post Staff Writer [cm123803@ohiou.edu]
http://thepost.baker.ohiou.edu/articles/2006/08/17/features/14226.html

Bob Stewart's new solo album, "A Million Miles Away From Home," offers up a mix of instrumental melodies and personal folk songs about adolescent transience, aging love and reflections on love and war.
| | |
| --- | --- |
| | photo by Ezra Shearer for The Post [as348998@ohio.edu]. Bob Stewart performs with his band on Saturday at the Donkey during a release show for his new album "A Million Miles Away from Home." The title track was written to commemorate the deaths of 14 Ohio Marines in Iraq. |
"This CD has some love elements, as most albums do, yet has another dimension of loss of children in a war and trust in government," said Stewart, a journalism professor at Ohio University.

The title track of the disc, which was released on the Internet on the six-month anniversary of Ohio's "Day of Mourning," pays homage to the 14 Ohio Marines killed in Iraq a year ago.

Since its launch, BobStewartband.com has experienced increased traffic. More than 1,900 people from all 50 states and more than 50 countries worldwide have downloaded the title track from his site, Stewart said.

The song has become "part of a cause and something beyond me," said Stewart last Monday. He had spent the early part of the day sending 40 discs to families who have lost children in the war.

The song has served as solace for many families disrupted by war. One couple in particular, Rosemary Palmer and Paul Schroeder, of Cleveland took the song to heart after their son, Edward "Augie" Schroeder, was killed a year ago in Iraq. The pair founded the "Families of the Fallen For Change," an active peace coalition "seeking a responsible end to U.S. military involvement in Iraq." They also feature "A Million Miles Away from Home," on their Web site (www.fofchange.org) using it as a backdrop in memoriam to their son.

"I cried the first time I heard the song," Schroeder said. "He captured all of the emotions that came with losing a child in a war. In my mind, that's the nature of art."

Stewart estimates that Ohio's loss of 14 soldiers is proportionately equivalent to more than 350 Americans dying in a three-day period.

"The entire country would be in an uproar if this happened," Stewart said.

Stewart presented the release of his new CD Saturday night to a packed audience in the back room of Donkey Coffee & Espresso. Despite a posted maximum capacity of 50, the room was filled with roughly 75 people.

The album was given out to anyone willing to make a donation to one of three organizations — and raised $650.

Stewart's band — consisting of lead guitar, harmonica and stand-up bass — backed Stewart, who played with his trademark finger-picking style on an acoustic guitar. Guest singers and musicians also joined him on stage and moved through the repertoire before ending the show with a stripped version of "A Million Miles Away From Home."

U.S. soldiers' deaths in Iraq inspire song
By Ashley Luther, Athens News Campus Reporter (August 7th, 2006)
[http://athensnews.com/index.php?action=viewarticle&section=entertainment&story_id=25562]

Local musician and Ohio University professor Bob Stewart releases his folk CD, "A Million Miles Away from Home" this Tuesday, honoring the one-year anniversary of Ohio's designated "Day of Mourning" after 14 Ohio Marines were killed in Iraq a year ago.

The title track, "A Million Miles Away From Home," pays tribute to fallen soldiers who fought valiantly and is intended to help families grieve and connect.

"I knew I wasn't writing an anti-war song," said Stewart. " I wanted to make a song that helped people grieve."

Last August, Stewart read countless newspaper articles about the Ohio Marines killed in battles on Aug. 1 and 3, 2005. Follow-up articles described anxious parents waiting by their telephones to hear the fate of their sons and daughters. Though Stewart has no children in the military, he understands the feeling of having your children so far away from home. The stories of families who lost loved ones in Iraq hit him tremendously.

Stewart figured that factored out over the population of the United States, losing 14 soldiers in the state of Ohio would be the equivalent of more than 350 Americans dying in two battles fought over just a three-day period. There was an enormous sense of loss in the Ohio community he said.

On Aug. 8, 2005, Stewart began writing the song.

"To start to write a song, you have to have something on your mind that you can't get off your mind," he said. "The first line [of the song] came out, and the rest started pouring out; it was not even work."

Stewart said he sang the song to his wife, and they both cried together. It was clear that the emotional hardship of losing a child was a universal feeling, he said, and this song would help these mourning parents.

"This was my way of trying to make relief through song," he explained. "If even one person found comfort in it, I accomplished my goal."

Stewart worked on the song for six months before releasing it on the Internet on Feb. 8, 2006 -the six-month anniversary of the "Day of Mourning." He announced the song's release through several military-support Web sites, and received a response from someone whom he would keep in contact with to this day.

Rosemary Palmer, mother of Edward [Augie] Schroeder, who was killed in a roadside bomb attack on Aug. 3, 2005, found the lyrics powerful, according to Stewart. This was the most useful thing she would come across to help her pain, she told the professor.

Augie's father, Paul Schroeder also thanked Stewart deeply for the song, Stewart recalled. Even though Stewart conceded that he could never imagine this kind of loss, Schroeder said "A Million Miles Away from Home" helped the two parents realize that somebody else "got it," that they were not alone.

Since the single's release, Stewart said that more than 1,700 people - from all 50 states and the District of Columbia as well as from more than 45 countries - have visited his Web site (bobstewartband.com/mm) to download or listen to the song. Some have written comments about the song as well.

From there, Stewart knew that he wanted to release his full-length album on a significant day, the one-year anniversary of the "Day of Mourning." The CD is available this Tuesday and can be found at many local stores and will be available on iTunes and Rhapsody in six to eight weeks.

The CD release is among a series of events starting this Thursday when a panel discussion sponsored discussing the concept of a "just war" will begin at 7:30 p.m. at the Athens Public Library.

The Rev. Bethany Fulton of the First Presbyterian Church of Athens explained that three panelists from various religious backgrounds (Catholic, Muslim and Quaker) will discuss the social-justice issues pertaining to war, followed by a question-and-answer session.

She said the discussion will not necessarily focus on the current war or political events, merely the theory of war. Fulton stressed that this is not the opportunity to voice frustrations with politics, and the discussion is in a neutral environment.

This Friday at 7:30 p.m., Paul Schroeder and Rosemary Palmer, Augie Schroeder's parents, are giving a presentation in Scripps 111.

Stewart's CD-release show will take place Saturday at Donkey Coffee. Copies of the CD are complimentary when guests contribute a donation to designated charities.

Finally, this Sunday, participating area churches will incorporate a peace-oriented litany to honor the troops overseas.

Professor's tribute, 'A Million Miles Away from Home,' brings healing closer for families
OU Outlook (June 1, 2006)

[http://www.ohio.edu/outlook/05-06/June/539f-056.cfm]

"Today we stop to say goodbye to the children who fought and died. Far too young and too alone, a million miles away from home…"

Seven Marines, four of whom were from Ohio, were killed by enemy fire in an ambush near Haditha, Iraq, on Aug. 1, 2005. Two days later on Aug. 3, 10 Marines from Ohio were among the 14 killed by a roadside bomb south of Haditha. In total, 18 Marines were killed that week. "A Million Miles Away from Home," composed by Sing Tao Professor of International Journalism and musician Bob Stewart, is a solemn tribute to those fallen Marines.
Photo illustration by Julia Marino

The soothing and melodic song was released Feb. 8, the six-month anniversary of the state's annual Day of Mourning. Stewart, who sings and plays guitar, says he "wrote it to help grieve the loss."
The front man for the Athens folk-rock band "The Bob Stewart Band," Stewart had known for some time he wanted to write about the war and when he heard of the Marines killed that week, he felt he had to do something.
"It's not as brave as what other people were able to do, but it was what I was able to do," says Stewart, who started writing songs when he was 15 years old. "Songwriting is what saved my life."
And in a sense, Stewart's songwriting has saved others as well.
"Lovers cry out in the night, searching for that saving light. It's far too dark and too alone, a million miles away from home..."
Stewart searched for Web sites for families affected by the war and sent the sites a link to his song. "Families of the Fallen for Change" and "Marine Moms Online" are just two of the organizations that linked to the song, yielding a drastic increase in visitors to Stewart's band's Web site.
"A Million Miles Away from Home" was recorded with the help of various local musicians including producer and College of Communication Multimedia Lab Supervisor Chris Weibel; vocal arranger, back-up singer and university student W. Otis Crockron Jr. and back-up singers Online Editor Tasha Attaway and university student Janelle Cummings, as well as Mike Radcliffe on percussions and WOUB Broadcast Technician Terry Douds on bass. Most of the song was recorded at Media Design House, Weibel's studio in Athens.

The CD release for Stewart's upcoming album will be Aug. 12 [this is a correction from the original story in the OU Outlook], the one-year anniversary of the Day of Mourning. The album release concert will be held on Aug. 12 for family, friends and all fans at Donkey Coffee and Espresso in Athens.
People from as far as Texas, South Carolina, Indiana and California were listening to his song. "Seeing that more than 1,000 people linked to my song … it means a lot," he says.
More than 100 [editor's note: this is a correction from the original story in the OU Outlook] people visited the site March 9. Stewart says the spike in traffic occurred in part due to the posting of a slideshow produced by Paul Shroeder, father of LCPL Edward "Augie" Schroeder, an Ohio State University graduate killed in action in Haditha on Aug. 3. The slideshow, a compilation of photos of Augie's life "from day one until the funeral," as Shroeder describes it, was set to "A Million Miles Away from Home" and included a link to the band's Web site.
"Brothers and sisters, kneel and pray; wait on for that judgment day. You feel so empty and so alone, a million miles away from home..."
"[Augie] chose to join the Marines the March after 9/11 to serve and protect his fellow Americans," says Rosemary Palmer, Augie's mother. "He knew what his duty was, but I was not in favor of him joining the military."
Palmer and Shroeder, who live in Cleveland, felt an instant connection to Stewart's song.
"I think it was in January when I heard Bob's song," Shroeder says. "Rosemary had the words first. The words by themselves were touching, but then when I heard the words with the music, I was just in tears. I couldn't hold back my emotions. I called Bob and got his machine and could barely blurt out my name and number."
The song and the pictures fit together "just perfectly," Palmer says.
"It's one way to tell the story, and it's another to actually see the story," Shroeder adds. "The pictures (are) everyday pictures you have as your kids grow up, buried in albums over time. And what makes it so poignant is how he died, and the fact that we include the funeral (in the slides). . .War is something more than just numbers, more than stats. This is actual people who are losing their lives."
Through a series of events, Stewart and the couple connected instantly. "We could relate to each other," Stewart says. "It feels overwhelming. If it has helped people deal with the loss; that is a very humbling experience. The song tells them that somebody else 'got it.'"
"A million miles away from home - that is exactly where I feel my son is, too far away to see or talk to," says Shroeder. "That phrase right there captures what most families who lose someone in a war go through. He's so real about that. … [Stewart] put himself in a situation he was not in, and he captures it completely.
"The mark of a true artist is somebody who can write or produce something that can be appreciated by all people," he adds. "And that's what he's done with this song."
[part 2, published June 15, 2006; http://www.ohio.edu/outlook/05-06/June/539f-056a.cfm]
"A mother's waiting by the phone, she prays 'sweet Jesus will you lift this stone?' Can't bear a broken heart alone a million miles away from home"
"Bob's song is not an anti-war song," Palmer says. "It can be appreciated by people on both sides. It just touches the emotions for anybody, no matter your political stance on this war. It's very real."
Photo illustration by Julia Marino

In the wake of their son's death, the couple chose to speak out against the way the war is being managed and then decided to organize into action. In November 2005, they founded Families of the Fallen for Change, which now has nearly 1,100 members nationwide. The group has a nonpartisan plan for promoting the withdrawal of American troops from Iraq, as well as educating and acting on many issues involved in this conflict, including the face of war, the cost of war, patriotism, and war and peace.
"Flags are flying, they gently wave; soldiers fight on, must be brave. Far too young and too alone a million miles away from home."
"People are so afraid of speaking out," Palmer says. "We were pretty quiet at first."
"We wanted to promote a way out of Iraq," Shroeder says. "We wanted congressional pressure and are willing to lobby for people who are working in the same direction we are. The organization is also opposed to expansion into Iran."
Several of the organization's members are connected to the military. Some have served in Iraq, some are veterans and some have lost children or family members.
"We were just two parents, and we wanted to know what we could do to make some sort of impact on this war, because we didn't want other parents to go through what we went through and are still going through," Palmer says.
"The thrust of the program is to get people aware that we're all responsible in ending this war, not just the politicians," Shroeder adds. "The future of Americans is in our hands."
The couple has also begun a speaking program titled "A Million Miles Away from Home," after Stewart's song. Palmer and Shroeder talk about their "journey from quiet support for their son to political activism," as well as their "personal and political journey through the Iraq war," they said.
"This mountain's high, the valley's deep; the way is hard; and this journey's steep. Sons and daughters must walk alone, a million miles away from home."
Upon hearing "A Million Miles Away from Home," Stewart says his own father "wept buckets of tears."
"It was powerful to hear that," Stewart says, "since I had never before seen my father cry.
Stewart's father had been praying that the families of the fallen soldiers would find comfort somehow. He later said that the song was an "answer to his prayers," Stewart says.
Shroeder agrees. He told Stewart, "God was sitting on your shoulder when you wrote that song."
Palmer told Stewart on the phone that she tried to read the lyrics to "A Million Miles Away from Home" to her husband but couldn't get through it without crying.
"The song is helping people release pockets of grief that they couldn't release earlier because of the depth of their loss," Stewart says.
As a songwriter, Stewart says this response has surprised him. "Never have I had an experience like this one where people would say, 'I feel some healing,'" he says. "That's definitely a different level of feedback."
People who have never met Stewart also have given thanks and appreciation for the song on the band's Web site.
"Bravo," wrote Meriwether Ball, editor of CorpsStories.com. "I know how hard it is to watch our young Marines die and know that their families will suffer deeply for many years ahead. Music reaches all, and I know that your song is a comforting tribute to those loved ones. So, although this helped you to grieve, it also helps others to heal."
One listener, who only signed her name 'Bev,' described the message of Stewart's song: " 'A million miles away' is a poignant tribute, not only to those fallen soldiers, but to all of the people who love them, who are left to bear the immeasurable cost of their courage, commitment and selfless sacrifice. ...It is also an unflinching reminder that the cost of hatred and unbridled lust for power is the very lives of these precious soldiers, brothers, fathers, husbands, sisters, friends, wives, mothers, sons and daughters.
"It is the fabric of our lives given voice and encased in music that touches the spirits and hearts of those who hear it, regardless of the listener's stance on the political issues, or feelings about whether or not we should even be there. It is a thing of beauty that also causes us to remember, to think, to feel something beyond ourselves...."
"Today we stopped to say goodbye to our children who fought and died. Far too young and too alone a million miles away from home."
"A Soldier's Song"
The Cleveland Free Times (March 22, 2006)
Charu Gupta, Free Press staff writer
[http://www.freetimes.com/modules.php?op=modload&name=News&file=article&sid=3187]
Last month, we told you about the parents of Lance Cpl. Edward August "Augie" Schroeder II, who was killed last August, along with 14 others, in a roadside explosion near Haditha, in western Iraq ("For Augie," Feb. 8).
Augie's parents, Paul Schroeder and Rosemary Palmer, founded Families of the Fallen for Change to speak out against the war.
But even before Schroeder and Palmer got organized, Bob Stewart — whom neither Augie nor his parents had ever met — was compiling his own tribute. The day the 14 Marines were killed, Stewart, a musician and journalism professor at Ohio University in Athens, sat down with his guitar and wrote, "A Million Miles Away from Home."
Stewart sent the song to all the parents who lost children on Aug. 8. Augie's father says he cried when he first heard the seven-verse tribute.
"Today we stop to say goodbye to the children who fought and died/Far too young, and too alone/A million miles away from home … Brothers and sisters kneel and pray/Wait on for that judgement day/You feel so empty and so alone/ A million miles away from home."
Schroeder's thoughts appear on Stewart's Web site (www.bobstewartband.com). "[Augie] seems like a million miles away now. The home that we had — a strong circle of four — seems like a million miles away. With this tribute and Bob's song, both are closer."
"Band featuring professors adds passionate lyrics to mellow melodies"
The Post (March 2, 2006)
Kelly Schwaberow, Staff Writer (ks179503@ohiou.edu)
[http://www.thepost.ohiou.edu/show_news.php?article=F2&date=030206]
Although most students would like to think of their professors as university employees who only leave their offices to drive their Beemers to university-related meetings, journalism professor Bob Stewart and anthropology professor Elliot Abrams step out of the classroom and into the bar - or coffee house.
Along with stand-up bassist Greg Bikowski, a paramedic by day, and harmonica player John Ortman, a doctor, The Bob Stewart Band uses comforting, folksy-blues melodies as a base for its fiery political ballads.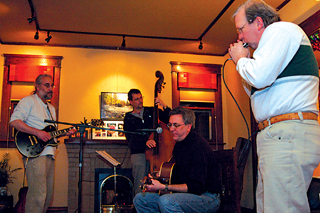 Rob Hardin/Senior Staff Photographer: "Elliot Abrams, Greg Bikowski, Bob Stewart and John Ortman lay down a smooth blues groove during their Tuesday night rehearsal. The "giggy" quartet will bring its unique sound to the Donkey this Saturday at 9 p.m."

"We rock, but we don't play rock," Bikowki said.
When The Bob Stewart Band started playing in the summer of 2002, its songs were more focused around relationships, but lately the group has been writing as an observer to the country's tragedies, writing its political positions into songs such as "The Storm" about Hurricane Katrina and "A Million Miles Away from Home" about the deaths of 14 Ohio soldiers in Iraq.
What the band sings about is real, said Stewart, and the members try to sing them as if they are heartfelt memories.
But with hundreds of folk bands popping up in Appalachia every year, The Bob Stewart Band stands out because they don't have a drummer, they are experienced and the band members can afford good instruments, they said.
"We are definitely products of the music of our generation, and if younger bands are playing this stuff, they're playing it because they've heard it. We really grew up on that stuff, and everything we do, I think, is influenced by music," Stewart said.
Most of the group's songs are written and sung by Stewart; however, each member has his own songs he has written, and each sings them at the shows.
The Bob Stewart Band has a vault filled with mellow, coffeehouse-appropriate songs with lyrics that "the times call for," but that does not mean they only play at The Donkey Coffee and Espresso, 17 1/2 W. Washington St. They've been spotted by Court Street shufflers at Blue Gator, 63 N. Court St., and Red Brick Tavern, 14 N. Court St. Sometimes they are "wallpaper music" and sometimes they are in the spotlight," Bikowski said.
Stewart said he likes performing at Donkey because people come to listen. "I like that personally, because the songs that I sing, they're not going to blow you over with volume; they're very quiet," he said.
Wherever they play, the group said they are happy with an audience who reacts to its sincere songs, acknowledges that it got the point and has a good time too.
The Bob Stewart Band formed after Abrams and Stewart started playing open-mic nights in 2002. The duo grew to a trio six months later when they added Bikowski, who was introduced to Stewart through a friend. Stewart knew Ortman from when his son dated Ortman's daughter, and Ortman joined shortly after.
The Bob Stewart Band is a serious hobby, Stewart said.
"To me, a hobby is something you really, really enjoy doing. You do it for passion. And if you get a good payday, as Elliot said one time, 'You get to buy the pizza you like the best,' and that's the kind of paydays we get," Stewart said.
Their performance Saturday will be the first full-band performance since December.
Most likely, the band will not branch outside Athens or record any tracks together, because they are a "giggy" band.
Abrams said he wants to become "world famous" in Athens.
The Bob Stewart Band is performing with OU student Lindsay Moyer 9 p.m. Saturday at Donkey. Admission is $3.