PRESS RELEASE (Athens, OHIO – May 24, 2004)

Athens, Ohio-based singer-songwriter Bob Stewart will release his debut album, "Don't Think You Know," June 11, 2004. The CD, produced by Chris Weibel of Guysville, Ohio [mediadesignhouse.com], features songs written by Stewart or co-written by Stewart and Stacy Puzo. Most of the songs, including Stewart's title track, "Don't Think You Know," were written in 2002 and 2003, with two notable exceptions, "Moody Blue" (1972) and "Shadow Boxer" (1977).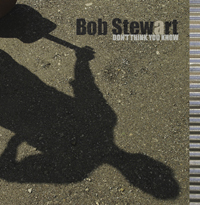 Stewart's guitar playing bears the obvious influence of James Taylor, but songs on "Don't Think You Know" range from a modern country feel ("Don't Think You Know," "Another Chance to Fall") to blue grass ("One Last Day to Cry") to rock ("Moody Blue," "Walkin'") to ballad ("Fare Thee Well," "Summer Song"). Also included is the guitar instrumental, "Penny from Heaven," noteworthy for its ending melody played using harmonics.
Musicians appearing on the album with Stewart include John Borchard on pedal steel and lap steel; Zeke Hutchison on mandolin; Terry Douds on electric bass; Bryan Gibson on drums; Chris Weibel on organ; Jeff Smith and Susan Quińones, backup vocals; Elliot Abrams, lead guitar; John Ortman, harmonica; and Friedrich "Fripoh" Pohl, cello.
Stewart has been teaching journalism at Ohio University since 1987. He is the director of the Institute for International Journalism in the E.W. Scripps School of Journalism. He lives in Athens, Ohio with his wife, Penny Shelton.
Stewart and Weibel are available for interviews at:
Bob Stewart -- 740/594-3843 (home), 740/591-3843 (cell)
Chris Weibel -- 740/667-5756 (home)