"DON'T THINK YOU KNOW" (CD)

Bob Stewart: lead vocals, guitar
Elliot "El" Abrams: lead guitar
John Borchard: pedal steel & lap steel guitar
Terry Douds: electric bass
Bryan Gibson: drums
Zeke Hutchison: mandolin
John "Sugar Boy" Ortman: harmonica
Friedrich "Fripoh" Pohl: cello
Susan Quińones & Jeff Smith: backup vocals
Chris Weibel: organ

Produced, engineered and mixed by Chris Weibel, Media Design House, Guysville, Ohio.

I'd like to thank Penny for her tender and inspiring ("Don't Think You Know") love and her unwavering support for this project; my musically gifted children, Bodie, Molly & Ben; Elliot Abrams, Greg Bikowski & John Ortman, the other members of the Bob Stewart Band; Susan Quińones, Jeff Smith, Friedrich Pohl, Bryan Gibson, Terry Douds, John Borchard and Zeke Hutchison, for lending their musical talents to this effort; Chris Weibel, for his commitment to this project and the countless hours he spent with (and without) me in his Guysville, Ohio studio; Stacy Puzo, for being brave enough to share precious words with me; my parents, Maxine & Bob Stewart; the members of the imPRessions team from Ohio University's E.W. Scripps School of Journalism, led by Maggie Brown; Claudia and Bruce Strong, for making the CD easy on the eyes; all of the folks who encouraged me as I embarked on this musical adventure, especially Michael Bugeja, Marge Shelton, Bernhard Debatin, Beverly Shelton, Ruth Latham, Chris & Angie Pyle; countless good people in Athens, Ohio and Leipzig, Germany who listened as these songs evolved through live performances—first at open mics and then at honest-to-goodness shows.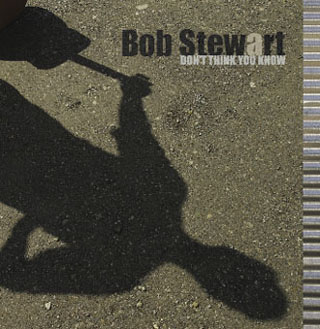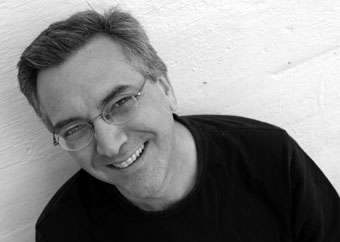 home
BIOs
MM
(CD)
reviews
shows

"Bob Stewart's new solo album, 'Don't Think You Know,' is a composed amalgamation of folk, soft rock and ballad. The album is simultaneously charming and subtle with its understated melodies and rich instrumentation. In addition to cameos from Athens band mates Elliot Abrams (guitar), John Ortman (harmonica), Jeff Smith (backup vocals) and Susan Quińones (backup vocals), Stewart has employed the talents of various outside instrumentalists. Pedal/lap steel player John Borchard and mandolin player Zeke Hutchinson provide new textures and sweeping harmonies to the proven folksy mix.... Stewart himself has stated that an older crowd has always appreciated his music and that students have a tendency to compare his music to the style their parents enjoy. While James Taylor, Jackson Browne and John Prine are rarely heard pumping from subwoofers on campus, assuming this music to be too quiet or lackluster for Generation Y would be an underestimation. After all, for every Linkin Park or Lostprophets fan there's a Ben Folds, Guster or Kenny Chesney appreciator with "The Graduate" soundtrack in their CD deck. Songs like 'Fare Thee Well' and 'Summer Song' embrace the gentle aesthetic of the album, highlighting Stewart's colorful arpeggios and voice. Stewart's voice is pristine and subdued throughout most of the album, which is appropriate for his relaxed style.... Stewart's 'Don't Think You Know' is a surprisingly good album to come from the local music scene. It underlies competent, mature talent that provides 45 minutes of masterful folk." [The Post, 5/27/04]

"[Stewart's] affinity and admiration for James Taylor's 'Sweet Baby James' comes across strong in the album, and while this flavor holds the record together, Stewart is not afraid to include varying genres. The first track, titled 'All Over Again,' leans heavily on Taylor's 'Fire and Rain,' while the next track ('That's Not What Dancin's For') carries a mandolin-heavy, virtually bossanova beat. Stewart's instrumental abilities have unquestionably been honed and sharpened extensively. Mid-album offerings include 'Walkin',' with an extended instrumental introduction, showcasing the harmonica skills of John Ortman. 'Penny From Heaven' offers an instrumental piece with an impressive end melody using harmonics. The album shows a concerted effort toward light production, with heavy emphasis on the intricacies of Stewart's voice. In songs like 'Fare Thee Well,' the production quality allows for subtle nuances to show through. The mid-song introduction of a melancholy cello line adds depth and echoes the natural movement of Stewart's voice. Musically and stylistically, the album is strung together in a refreshing balance of consistency and variation. The bulk of the album was written in 2002 and 2003, but also includes two songs from earlier in Stewart's career. 'Moody Blue' was written in 1972, while 'Shadow Boxer' was penned in 1977. Stewart successfully combines songs without disrupting the album flow. Gritty electric guitar and lyrical portions of 'Moody Blue' give away its era, but the album hangs together relatively well. The highlight of the album comes close to the end. 'One Last Day to Cry,' ironically the most upbeat of the songs but with the most melancholy lyrics, surprises the listener with a dynamic flow and engaging experience, while 'Summer Song' deals with a touching tribute to inevitable exit." [Athens News, 6/10/04]

"Bob Stewart's 'Don't Think You Know' is, at its most memorable points, a solid display of intricately ornate guitar work and heartfelt sentiments. Highlights include the pretty, Jim Croce-ish 'Fare Thee Well,' a delicate song, encased in impressive guitar and cello parts, that makes good use of Stewart's light singing voice. Perhaps the album's best track is the gorgeous instrumental, 'Penny From Heaven,' a needed showcase of Stewart's technical prowess and knack for emotionally gripping progressions." [Athens Insider, 6/3/04]